Live Q&A - Iterative Development: XP, Test-Driven Development and Refactoring
James Grenning - Watch Now - Duration: 27:31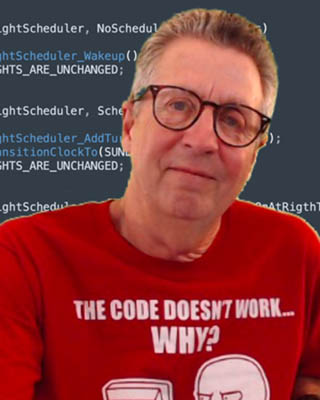 Live Q&A - Iterative Development: XP, Test-Driven Development and Refactoring
15:31:32	 From  Keith J : Unsolicited advertisement for James - If you want to learn more about TDD, his class is really good.
15:44:31	 From  Cole Wyant : What are some ways to unit test modules use opaque data types? For example, I developed a module to monitor temperature that used a state machine. Most of my tests would verify that given a certain condition, the state machine jumped to the proper state. I kind of cheated and used macros to expose the private members of the state machine during testing. Is there a better way to test modules with opaque data?
15:49:07	 From  Brian Cabebe : Suggestion for Gillian, lead by example.  Can you use TDD on the code you work on?
15:50:40	 From  Gillian Minnehan : @Brian I am using it! In my upcoming merge request, I have a lot of great unit tests that I'm hoping they notice
15:51:21	 From  Jacob Beningo : ?
15:58:07	 From  Ross : I've found the Active Object design pattern helps eliminate lots of mocks from my testing.
15:58:46	 From  Geoff : thanks, i'll check it out
15:58:49	 From  Gillian Minnehan : Thank you!