Home > On-Demand Archives > Talks >
Buried Treasure and Map Files
Elecia White - Watch Now - Duration: 35:18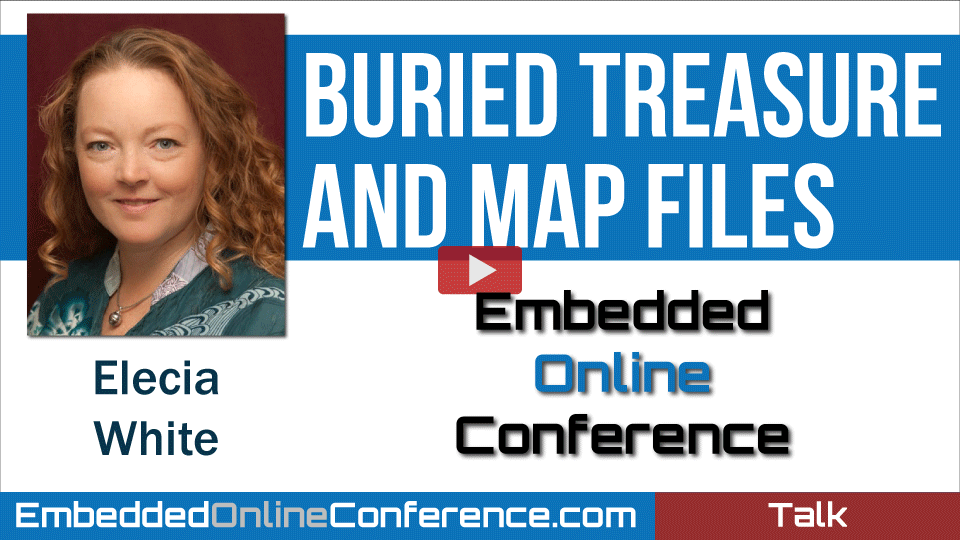 Often overlooked, the map file can provide a wealth of information to the intrepid developer. Map files can help:
optimizing for RAM usage and/or code space
updating firmware (with or without a bootloader)
debugging difficult crash bugs
statistical profiling
With so much information, how can you use it? Where do you look? How do you turn the wall of text and numbers into a true map of the code?
Elecia will demonstrate how to use map files. She will focus on an ARM Cortex-M but it will be relevant to other processors.
alvangee
Score:
0
| 2 years ago | no reply
SimonSmith
Score:
0
| 2 years ago | no reply
DS
Score:
0
| 2 years ago | no reply
EEngstrom77
Score:
0
| 2 years ago | no reply
Dimitri
Score:
1
| 3 years ago | no reply
billionai
Score:
-1
| 3 years ago | no reply
AllenMoore
Score:
0
| 3 years ago | no reply
Pete
Score:
0
| 3 years ago | no reply
acarvalho
Score:
0
| 3 years ago |
1 reply
Score:
0
| 3 years ago | no reply
Tarik Ku
Score:
1
| 3 years ago |
2 replies
Score:
0
| 3 years ago |
2 replies
Mikael Albertsson
Score:
0
| 3 years ago | no reply
Tarik Ku
Score:
0
| 3 years ago | no reply
Mikael Albertsson
Score:
1
| 3 years ago | no reply
Gerhard
Score:
1
| 3 years ago |
1 reply
Mikael Albertsson
Score:
0
| 3 years ago |
1 reply
Score:
0
| 3 years ago |
1 reply
Mikael Albertsson
Score:
1
| 3 years ago | no reply
WillHsiung
Score:
0
| 3 years ago |
1 reply
Score:
0
| 3 years ago | no reply
TomDavies
Score:
1
| 3 years ago |
2 replies
Score:
2
| 3 years ago |
2 replies
TomDavies
Score:
0
| 3 years ago | no reply
Mikael Albertsson
Score:
1
| 3 years ago | no reply
Tarik Ku
Score:
0
| 3 years ago |
1 reply
TomDavies
Score:
0
| 3 years ago | no reply
JeremyS
Score:
1
| 3 years ago |
1 reply
Score:
0
| 3 years ago | no reply
mgaron
Score:
1
| 3 years ago | no reply
JeanLabrosse
Score:
0
| 3 years ago |
1 reply
Score:
0
| 3 years ago | no reply