Home > On-Demand Archives > Talks >
How Agile is Changing the Face of Embedded Software Development
Niall Cooling - Watch Now - Duration: 49:54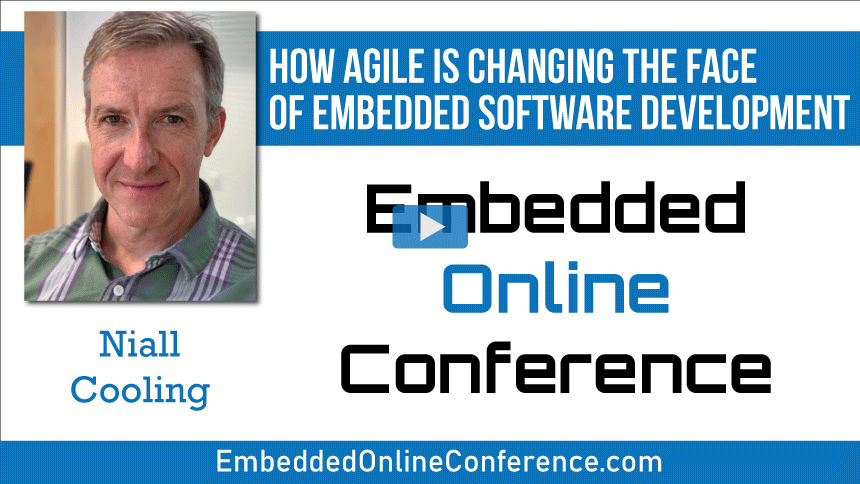 This presentation is ideal for anyone who is either new to Agile, considering using Agile or even has experience in working with Agile methodologies and practices with embedded software or firmware developments.
It will clarify the Agile landscape, covering both process based aspects, such as Scrum and various techniques, including Test Driven Development (TDD) and some of the underlying foundation principles, such as Continuous Integration (CI).
As part of the discussion, we shall look at some of the modern-day tools that help apply Agile techniques(e.g. Docker) and finally look ahead to the current gaps and where embedded systems offer particular challenges to the use of Agile techniques.
Steve_Lewis
Score:
1
| 3 years ago |
1 reply
Score:
0
| 3 years ago |
1 reply
Steve_Lewis
Score:
0
| 3 years ago | no reply
lanceharvie
Score:
0
| 3 years ago |
2 replies
Score:
0
| 3 years ago |
1 reply
lanceharvie
Score:
0
| 3 years ago | no reply
Otzen
Score:
0
| 3 years ago | no reply
AndrewSZ
Score:
0
| 3 years ago |
1 reply
Score:
0
| 3 years ago | no reply
sfutcha
Score:
0
| 3 years ago |
1 reply
Score:
0
| 3 years ago | no reply
BrianH
Score:
1
| 3 years ago |
1 reply
Score:
0
| 3 years ago | no reply
jwgrenning
Score:
0
| 3 years ago |
1 reply
Score:
0
| 3 years ago | no reply
SimonSmith
Score:
1
| 3 years ago |
1 reply
Score:
1
| 3 years ago | no reply
Raghu
Score:
1
| 3 years ago |
1 reply
Score:
0
| 3 years ago | no reply
ACT
Score:
1
| 3 years ago |
1 reply
Score:
0
| 3 years ago | no reply
enrico.perera
Score:
0
| 3 years ago |
1 reply
Score:
0
| 3 years ago |
1 reply
enrico.perera
Score:
0
| 3 years ago |
1 reply
Score:
0
| 3 years ago | no reply
Score:
1
| 3 years ago |
1 reply
Score:
0
| 3 years ago | no reply
Pete
Score:
2
| 3 years ago | no reply
IoTsri
Score:
0
| 3 years ago |
1 reply
Score:
0
| 3 years ago | no reply
Jeremy
Score:
0
| 3 years ago |
1 reply
Score:
0
| 3 years ago |
1 reply
Jeremy
Score:
0
| 3 years ago | no reply
Score:
0
| 3 years ago |
1 reply
Score:
0
| 3 years ago | no reply
MarkusADH
Score:
1
| 3 years ago |
1 reply
Score:
0
| 3 years ago | no reply
Alan
Score:
0
| 3 years ago |
1 reply
Score:
1
| 3 years ago |
1 reply
Alan
Score:
0
| 3 years ago | no reply