Home >
How to Get the Bugs Out of your Embedded Product
Dave Nadler - Watch Now - Duration: 45:39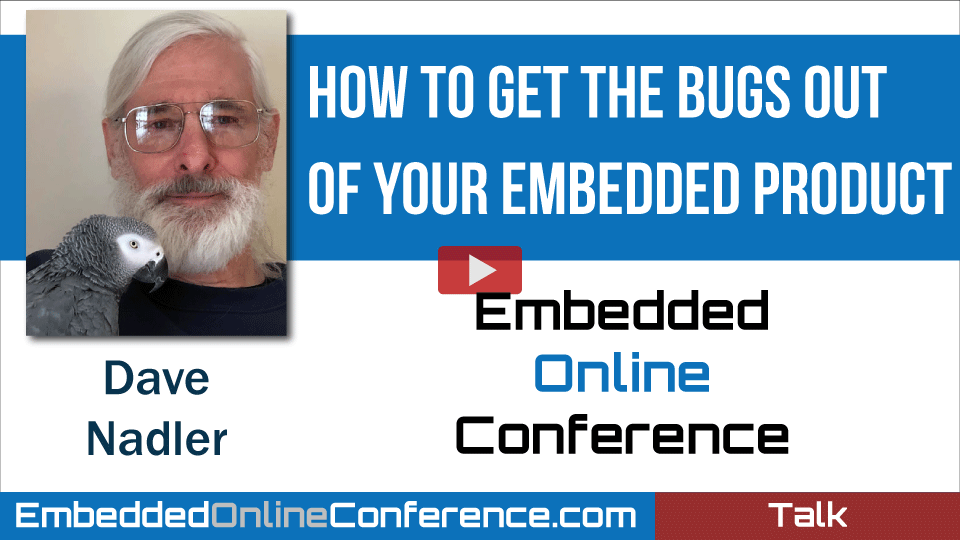 What approaches really work for development and especially shaking out the bugs?
Test-driven development?
Simulation?
Code and design reviews?
Memory access checkers?
Scripted tests with coverage analysis?
Dumb Luck?
This is case study of a project to 'fix a small setup bug' in an existing product, which proved a wee bit larger than expected.
We'll review a bunch of actual bugs, techniques used, and statistics.
The approaches discussed could help you with your current project!
Anders
Score:
0
| 6 months ago |
1 reply
Score:
0
| 6 months ago | no reply
Miro
Score:
0
| 6 months ago |
1 reply
Score:
0
| 6 months ago | no reply
leandropg
Score:
0
| 6 months ago |
1 reply
Score:
0
| 6 months ago | no reply
JeanLabrosse
Score:
0
| 6 months ago |
1 reply
Score:
0
| 6 months ago |
1 reply
Miro
Score:
0
| 6 months ago | no reply
IainC
Score:
0
| 6 months ago | no reply
GregM
Score:
0
| 6 months ago | no reply