Home >
Live Q&A - Best Practices for RTOS Application Design
Jacob Beningo - Watch Now - Duration: 19:35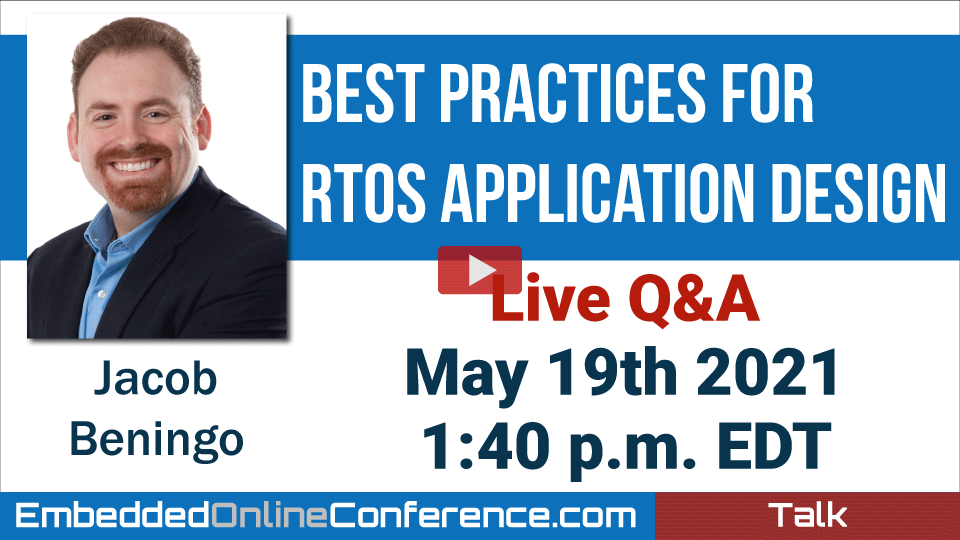 aldo_coronado
Score:
0
| 1 year ago |
1 reply
Score:
0
| 1 year ago | no reply
Serg
Score:
0
| 1 year ago |
1 reply
Score:
0
| 1 year ago | no reply
moredatalesscenter
Score:
0
| 1 year ago |
1 reply
Score:
1
| 1 year ago | no reply
14:44:34	 From  Manuel Malagon : I don't have the "hand raise" icon. How do I ask a question on the microphone?
14:44:47	 From  Aabhas : Hi Jacob, Can we minimize communication between tasks by using shared memory? What problems can arise in the application?
14:45:01	 From  Dave Nadler : Not at all! Use the timer task callback to put something into a queue to start other processing.
14:45:13	 From  JCA Engineering : You can raise your hand from the reactions menu.
14:45:59	 From  afwaanquadri : I like the idea of placing Tasks info at one place. Been there were tasks were created all over the place :D
14:46:05	 From  Jean Labrosse : The Timer task execute data in order instead of by priority.  So that defeats the idea of an RTOS
14:46:35	 From  afwaanquadri : I agree with Jean Labrosse
14:47:05	 From  ever : I will post my question here...  if we have a NONE RTOS embedded system (legacy code) what will be the best practice to migrate to RTOS ?, what will be the best practice, seems in my expirience the best practice is to either stick the way it is OR rewrite everything
14:47:56	 From  Sergii Akhinko : How to handle Asynchronous data reception in the system. For example if there 2 UART peripherals(no flow ctrl), that should accept data, that later should be processed by application. How should this be handled ?
14:48:26	 From  Aldo Coronado : What is the best way to implement an application which has an inherent need for state control (i.e. state machine, controlled by driver inputs) in and RTOS design paradigm? 
I have implemented an Event Handler which distributes messages from a Queue to the running context, but so far hasn't 
been deterministic.
14:48:31	 From  Aditya S : Hi Jacob, I recently found using FreeRTOS that a memory pool I used to bind a channel input with an output (from one task to another) was overwritten when the task scheduler started. To get around it, I had to declare the buffers and the memory pool had outside of the stack. I had not come across this before, and wondered whether I just got lucky last couple of years with previous code where I had not had this issue before? And is this the case with other RTOSs as well?
14:49:41	 From  Dave Nadler : Adita, you should not be placing buffers and memory pool on stack.
14:49:43	 From  Jorge Conti : what is the best practice to define memory for each task?
14:50:16	 From  Dave Nadler : Adita, when tasks start, stack area from startup is used for other purposes - which is a good feature as otherwise memory is wasted.
14:52:03	 From  Jean Labrosse : In most cases, when the RTOS starts, the startup stack is LOST!  There are ways to recover that.
14:52:34	 From  Dave Nadler : Its not lost, for example on Cortexx-4M it is reused as stack for ISRs.
14:52:46	 From  Aditya S : OK, thanks Dave. I think I follow. I suppose I probably got lucky previously based on the size of the pools defined.
14:52:51	 From  Dave Nadler : I'm speaking of FreeRTOS Jean.
14:52:51	 From  Rocco Brandi : what is the difference between Response Time and Execution Time? what can influence the response time of a task?
14:54:15	 From  Tim Michals : Are are not more RTOS vendors use lock free message queues?
14:54:23	 From  Nathan Jones : I think "response time" is similar to "deadline", meaning that it's the latest time the task can finish before something bad happens to the system (like not refreshing a screen at a sufficient rate).
14:54:28	 From  Davy Baker : How would you compare your go to methods,  to Ganssle's?
14:54:30	 From  javi : ever, you can start by putting you baremetal infinite loop into a FreeRTOS task and then start creating new tasks for other parts as you progress, step by step
14:55:12	 From  Dave Nadler : Right Javi, or use this as a starting place for factoring what should be separate tasks.
14:55:14	 From  Jean Labrosse : Best practice to allocate memory, especially for stacks is STATIC.  If you use malloc() to allocate task stacks as long as you never delete tasks.  For sure, you should NEVER use malloc() and free() to allocate memory because of fragmentation.
14:56:08	 From  Andrei : Any useful plugins for looking at FreeRTOS tasks at a given moment (i.e. debug halt)? I mean, inspecting a queue (where if I remember correctly the "message" is copied) is pretty difficult
14:56:31	 From  Mark Z : Hey Jacob, something I was thinking about was how to guarantee the timing of a Real Time System that's using Rate Monotonic Scheduling and Interrupts. Interrupts can be small and fast and only set a flag so would it be good enough for RMS to verify the CPU Utilization of all the tasks plus the interrupts? Maybe switching to a different scheduling method that doesn't use interrupts would be preferrable (like polling server or deferred server?)
14:59:19	 From  Jean Labrosse : RTOS aware plugins in tools are STATIC and not dynamic so you have to STOP your application to see what happens.  Not very useful for dynamic systems like control systems.
14:59:21	 From  Manuel Malagon : Tracealizer is expensive, what do you think about segger systemview? It is very good and it is free to use.
14:59:54	 From  Jean Labrosse : I used SystemView, I like it, super easy to use and last I checked, there was a free version.
15:00:21	 From  Jean Labrosse : Great job Jacob!
15:00:32	 From  Andrei : Thank you!
15:00:34	 From  Raul Pando : Thanks Jacob
15:00:35	 From  Mikael Albertsson : Thank you Jacob!
15:00:45	 From  Douglas Renaux : thanks alot
15:00:47	 From  Christopher Long : Thanks Jacob!