Home > Free Sessions > Theatre Talks >
Distributed PubSub for Microcontrollers
Matt Liberty - Joulescope - Watch Now - Duration: 43:32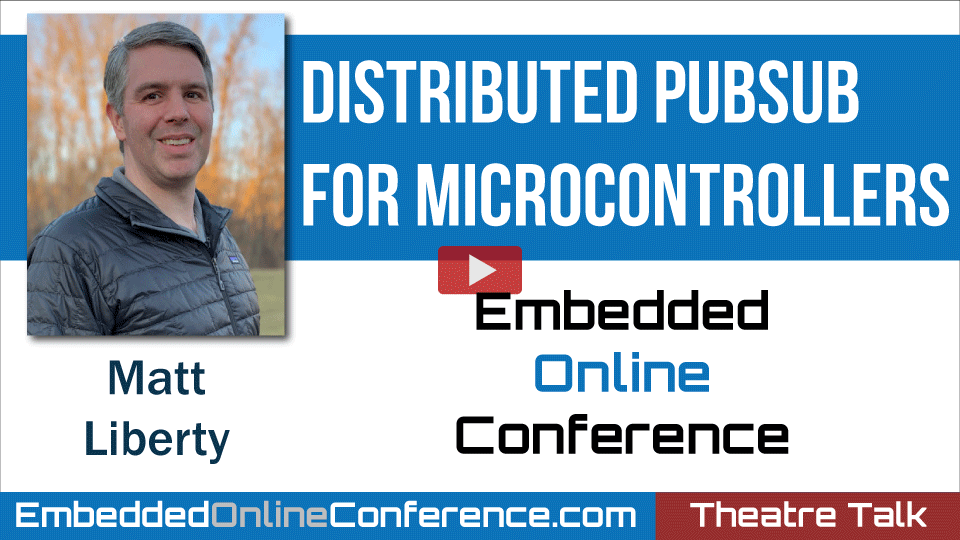 Do you waste time "plumbing" firmware to connect a new feature? Worry about managing dependencies between modules? Struggle to manage state when things go wrong?
In this session, we discuss real-world software architecture, dependencies, and state. We examine the publish-subscribe (PubSub) design pattern, what problems it solves, and what challenges it creates. We discuss how to create a distributed, reliable PubSub implementation that can span multiple microcontrollers with state recovery on failure. We explore one solution, Fitterbap, a new open-source C library with host Python bindings, which includes:
An efficient, distributed PubSub implementation with simple metadata that allows you to quickly add, remove, and modify firmware controls.
A small, high-reliability data link layer, suitable for local data streams including UART.
Multiplexed, fast, reliable data streams, such as for sample waveform data.
A UI (python + Qt + PySide) that runs on your host computer. The UI automatically instantiates controls from the metadata and plots streaming data.
Score:
1
| 1 year ago | no reply
RyanMac
Score:
0
| 1 year ago |
1 reply
Score:
0
| 1 year ago | no reply
RaulPando
Score:
0
| 1 year ago |
1 reply
Score:
0
| 1 year ago |
1 reply
RaulPando
Score:
0
| 1 year ago |
1 reply
Score:
0
| 1 year ago | no reply
remco_at_itsonlyaudio.com
Score:
0
| 1 year ago |
1 reply
Score:
-1
| 1 year ago |
1 reply
remco_at_itsonlyaudio.com
Score:
0
| 1 year ago |
1 reply
Score:
0
| 1 year ago | no reply
tcmichals
Score:
0
| 1 year ago |
1 reply
Score:
0
| 1 year ago |
1 reply
tcmichals
Score:
0
| 1 year ago |
1 reply
Score:
0
| 1 year ago | no reply
hdonahue
Score:
0
| 1 year ago |
1 reply
Score:
0
| 1 year ago | no reply
nathancharlesjones
Score:
0
| 1 year ago |
2 replies
Score:
0
| 1 year ago |
1 reply
nathancharlesjones
Score:
0
| 1 year ago | no reply
Score:
1
| 1 year ago | no reply
EEngstrom77
Score:
0
| 1 year ago |
1 reply
Score:
0
| 1 year ago | no reply
MatthewZaleski
Score:
0
| 1 year ago |
1 reply
Score:
0
| 1 year ago | no reply
Erwin
Score:
1
| 1 year ago |
1 reply
Score:
3
| 1 year ago |
1 reply
Erwin
Score:
0
| 1 year ago | no reply
Steve_Wheeler
Score:
0
| 1 year ago |
1 reply
Score:
1
| 1 year ago | no reply
WD
Score:
0
| 1 year ago | no reply
Miro
Score:
0
| 1 year ago |
1 reply
Score:
0
| 1 year ago | no reply
sergio_prado
Score:
1
| 1 year ago |
1 reply
Score:
0
| 1 year ago | no reply
Miro
Score:
0
| 1 year ago |
1 reply
Score:
0
| 1 year ago | no reply
acarvalho
Score:
1
| 1 year ago | no reply
esaias
Score:
1
| 1 year ago |
2 replies
Score:
0
| 1 year ago | no reply
Score:
0
| 1 year ago | no reply