Home > On-Demand Archives > Talks >
Why MISRA Matters!
Andrew Banks - LDRA - Watch Now - Duration: 24:01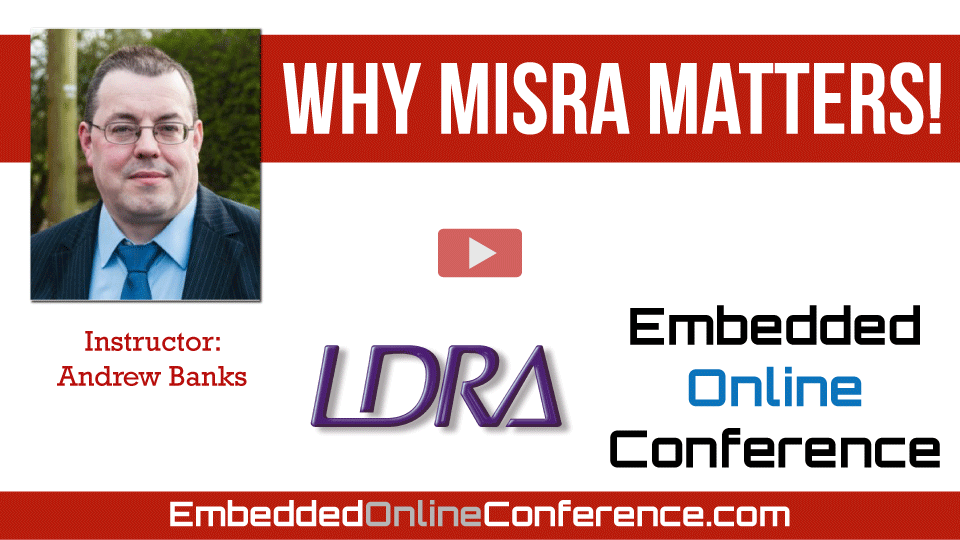 In this talk, Andrew Banks will discuss the importance of the static analysis in general, and the MISRA C/C++ Guidelines in particular, within Verification and Validation ("V&V") activities.
It will showcase common pitfalls that MISRA seeks to help avoid, and rationale behind some of the guidelines, while introducing the recent Amendment 2 to MISRA C:2012.
The presentation will also highlight why it is important to analyse and release "production" code.
martin.rivero
Score:
0
| 2 years ago | no reply
Doini
Score:
0
| 3 years ago | no reply
lramage
Score:
1
| 3 years ago |
1 reply
Score:
0
| 3 years ago | no reply
EEngstrom77
Score:
0
| 3 years ago | no reply
PhilipOMartel
Score:
0
| 3 years ago |
1 reply
Score:
0
| 3 years ago | no reply
Jeremy
Score:
1
| 3 years ago |
2 replies
SimonSmith
Score:
0
| 3 years ago |
1 reply
Score:
0
| 3 years ago | no reply
Score:
0
| 3 years ago | no reply
Score:
0
| 3 years ago | no reply
DanR
Score:
1
| 3 years ago |
1 reply
Score:
0
| 3 years ago |
1 reply
DanR
Score:
0
| 3 years ago |
1 reply
Score:
0
| 3 years ago | no reply
HR
Score:
1
| 3 years ago | no reply